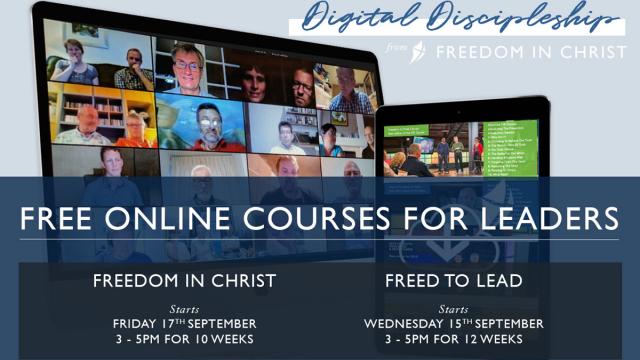 Wed 21st July 2021
We're praising God here at Freedom In Christ UK, because over the last year 600 Christian leaders from all walks of life have taken advantage of our free, Online Courses for Leaders. We started them very much as a response to the pandemic, but the feedback we have received has been so encouraging we think they are a flavour of things to come. This Autumn, starting in September, we will be offering both the Freedom In Christ Course and Freed To Lead, online, for free, for leaders.
Of course, we're not out of the pandemic yet. For many of us involved in leadership it might feel like we've just completed one marathon, only to be told to start another as we contemplate what a largely vaccinated, virus-hit, but no-restrictions in place, normal might look like. In the face of such challenges, there really is no better way to press into all God has for you than to come aside once a week on one of our Online Courses.
With breakout rooms facilitated by our experienced Freedom In Christ Team, a special online "steps day", and support and encouragement from fellow leaders throughout the course, you'll discover the enormous difference taking hold of Jesus' freedom for yourself and your leadership makes. But don't just take our word for it:
What an amazing privilege to be part of the Freed to Lead course. I have learned an incredible amount about what it means to lead and what it doesn't!! I already feel a new confidence and joy to lead from who I am in Christ and not have to feel I must prove myself all the while!

Thank you so much for your gentle, informal and encouraging leadership. I felt so at home among you and was immediately put at ease.

I am deeply grateful for Freedom in Christ Ministries and can't wait to lead another group from our church through one of these courses and into Freedom in Christ!!! What a joy and privilege that will be!!
The Freedom In Christ Course for Leaders starts 3pm Friday 17th September and runs for 10 weeks - find out more here
Freed To Lead Online starts 3pm Wednesday 15th September, and runs for 12 weeks - find out more here