The Grace Course works equally well with those who have just become Christians and those who have been Christians a long time. It has been designed to be flexible enough to use in a variety of church situations: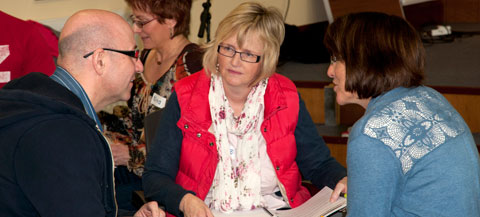 In small groups
This is how most churches use our discipleship resources. We recommend that, where possible, small groups use the teaching sessions on the DVDs rather than have the teaching delivered by the group leader and that they use the "Pause For Thought" (default) option on the DVD so that the sessions pause automatically for group discussion. If anyone misses a session, they can borrow the relevant DVD to catch up.
Each small group session is designed to last 2 hours and you will find a detailed time plan for each session in the Leader's Guide.
Systematic preaching with small group follow-up
Each of the Word sections can be delivered as a straight talk (in person or via the DVD). You could, therefore, use them as a main church teaching programme (for example in a Sunday service or US Sunday School program). This could be followed up in small groups during the week if there is no opportunity for group discussion.
Mid-week meeting
In a mid-week setting where there are no established small groups, you could bring everyone together and deliver the talk (in person or via the DVD) and then divide people into groups for the group discussion questions. Alternatively, you could deliver the talk in sections, allowing the groups to discuss the Pause For Thought questions as you go. The Grace Course works particularly well as a Lent Course.
Alongside an outreach course
It is possible to combine the course with an outreach course such as Alpha. You could bring both groups together for a meal before sending the not-yet Christians into the outreach course and new Christians into The Grace Course. Even if people have not become Christians on the outreach course, this should not preclude them from going on to The Grace Course, which will show them clearly in the first three sessions the differences that take place when someone becomes a Christian.
One-on-one discipling
It may be time-consuming to run the course for just one person but it works very well indeed. It's a great way to disciple a new convert or as a mentoring tool for those who have been Christians for a while.
Which way is best?
Freedom In Christ Ministries has been producing resources for churches around the world since 1988, all designed to help Christians become fruitful disciples. We have found that by far the most effective way for most people to learn in a church environment is in a small group where they are encouraged to discuss what is being taught.
In preparing The Grace Course our focus has therefore primarily been on creating a small group resource but you will find it will work well in any of the ways outlined above.