Check out the course contents
FIC For Young People is packed full of relevant, interactive, multi-media based material tailored to meet the needs of 11-18 year olds. Split into two age ranges - 11-14 and 15-18 - each session includes a video teaching component.
Here's a sample session (Session 6 "Strongholds") from the DVD. It's designed to be run in three separate short chapters - you'll see the chapter breaks - but we're showing it here in full.
Zoom to full screen by clicking the symbol bottom right of the video picture.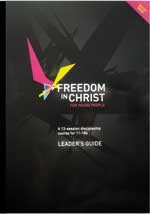 The Leader's Guide contains the complete teaching material for both age ranges (11-14 and 15-18). Click to see a pdf version of Session 1 from the Leader's Guide. You can also see the Introduction section which has loads of extra information you may find helpful.
Included with it is the video teaching material: a DVD with around three hours of video material presented by Nathan Iles and Kate John of Youth For Christ.
All of the video material is shot on location around the UK (the young people love guessing where each week's film will be set!) and is delivered in bite-size chunks.
The DVD also contains a youth leader orientation session with Steve Goss. At just £35 including the DVD, The Leader's Guide is superb value for money.
Each participant on the course will need a workbook. The full-colour workbooks contain key point summaries, discussion questions and age-appropriate versions of the 'Steps to Freedom in Christ'. The workbooks come in two varieties, 11-14 and 15-18 and cost £2.99 each or £12.99 for a pack of five.
There is also a set of Biblical Truth postcards for each age group (11-14 and 15-18) at £7.50 for 10.
Finally, registered users of FIC For Young People (registration is free of charge) have access to a whole host of additional downloads including PowerPoint slides and extra handout material.
See FIC For Young People at no risk
Want to see the material? Simply place an order and, if you decide it's not for you, return it within 28 days in perfect condition for a full refund. Alternatively, send off for our free Introduction & Sampler DVD which contains a sample session and further background information.