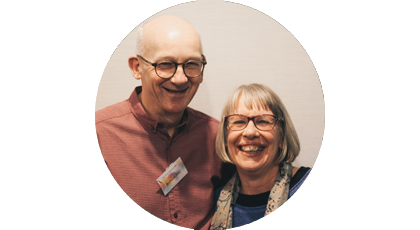 Richard and Sheila are part of the leadership of Freedom in Christ ministry at Emmanuel Church Durham. They first came across FIC material in 2011 and have been involved in running the FIC discipleship course regularly since 2015 and using FIC material 1-1. Their Church has also run several other FIC courses (Youth; Disciple; Grace; Health, Wholeness and Fruitfulness).
They have seen the freedom teaching impact significantly on their own lives, and they count it a huge privilege every year to see God use the course in ways that are life-changing for others. Both are keen to see Christians becoming everything they can be, knowing who they are and what God has given them in Christ. Emmanuel Church as part of its calling to be a 'kingdom resource centre' has also been delighted to help other churches locally (and in India!) establish freedom ministries.
After working in public sector management, with a calling to live out Kingdom leadership in that context, Richard is now involved in a local Christian charity which helps people who have faced major issues turn their lives around. Sheila is involved in pastoral ministry both through the church and in the North East working with refugees. Music, country walks and being grandparents provide delight for them both.