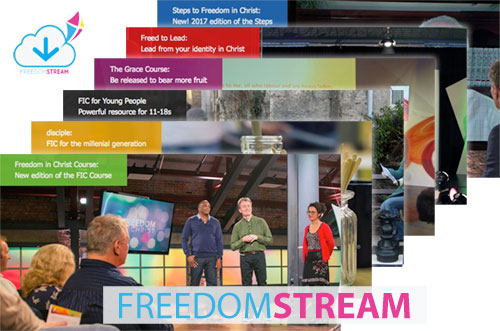 Monthly Recurring FreedomStream Subscription for Individuals, with FREE 2-week trial, £5 per month/per household thereafter.
This FreedomStream subscription will give you access to all of Freedom In Christ's Teaching Resources to share with your whole congregation. Resources include:
Freedom In Christ Course - 10 week discipleship course - 2017 Edition
disciple - the FIC message as a 10-week course for the 18-30s generation
Steps to Freedom - be lead through the seven steps by Neil Anderson and Steve Goss
Youth FIC - the short teaching clips used in the 13-week Youth FIC Course
Grace Course - the 6-session course unpacking the riches of God's Grace
Freed To Lead - the 10-week Identity-Based Leadership course
Making Fruitful Disciples - a 6 session Training Course for those wishing to run the Freedom In Christ Course
Helping Others Find Freedom In Christ - a 6 session Training Course for those wanting to gain confidence using the Steps To Freedom In Christ.
FreedomStream Recurring Subscriptions are facilitated by PayPal - once you have reviewed your order you will complete your purchase on PayPal's website. Your subscription will be automatically renewed monthly, but you will be able to cancel it at any time if you wish.