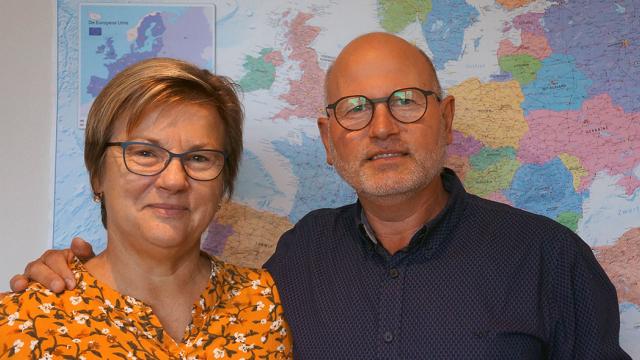 Tue 20th October 2020
Our sister ministry, Freedom In Christ International, has some significant news - we have new Area Directors for Europe: Peter and Annemarie Maris!
Peter and Annemarie take over from Carolyn Jackson who is now focussing exclusively on her role as Equipping Director and remains on the Freedom In Christ International Leadership Team. Under Carolyn's leadership since 2015, the Area has grown to around 20 countries with many others well on their way to establishing a national Freedom In Christ ministry. 
Based in the Netherlands, Peter and Annemarie have three grown-up children. Until 2009 Annemarie worked with people with special needs and Peter was head of a sales department but they gave up their jobs to go as missionaries bringing humanitarian aid to Albania. A year or so later a French missionary gave them a copy of the Freedom In Christ Course, saying, "It will be helpful in your work for the Lord but it is not necessary to make it your ministry". It made a great impact on them and they found themselves telling many Albanian pastors about it. Peter then felt called to translate the course into Albanian and made contact with Freedom In Christ Ministries. Having been invited to a gathering of Freedom In Christ people from around the world in 2012, Peter met Jan and Nellie Kits who had started Freedom In Christ in the Netherlands. When they felt it right to step back from that role some years later, they asked Peter whether he would succeed them and so, after seven years in Albania, Peter and Annemarie returned to the Netherlands in 2018. They left behind a fully-functioning office in Abania under the leadership of Pastor Arjan Larashi. Annemarie has been involved in intercession for Europe for Freedom In Christ for some time, and Peter has been Assistant Europe Director. He remains on the Board of Freedom In Christ Albania.
Peter and Annemarie say, "All these years we have been guided, trained, and equipped by Carolyn Jackson. Now Carolyn is handing the baton to us. We love to serve the Lord and have a heart to equip churches in Europe to transform the nations so are moving forward in faith. It is a privilege to work in God's Kingdom."
We're excited about how God will direct Peter and Annemarie in their leadership of the expansion of the Freedom In Christ message across Europe, and as the UK ministry, look forward to supporting them as much as we can!