You are here
Freedom! A Strategy for Transforming Discipleship - York
NORTH EAST, 11 July 2018
A free two hour introduction to our strategy for transforming discipleship, as well as an opportunity to hear new exciting developments.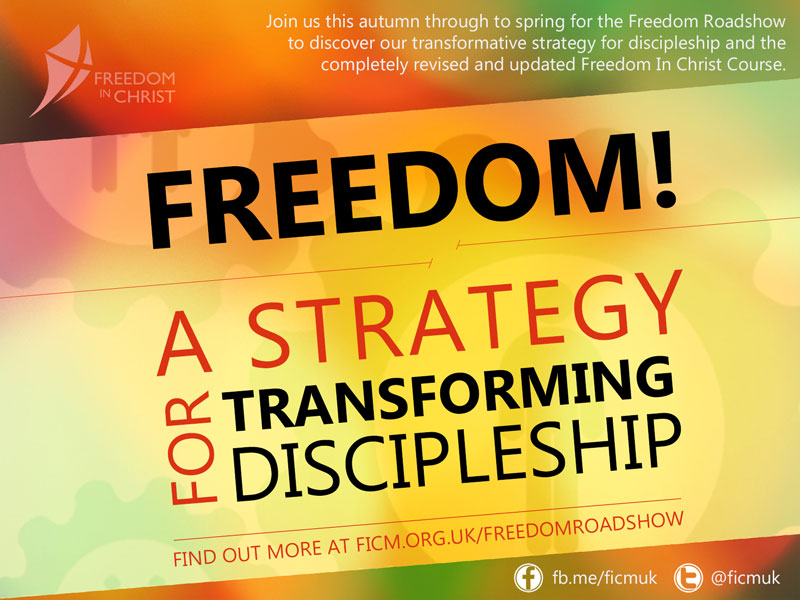 Is your discipleship all God wants it to be? Do you want to find out how it can be transformed? Join us for the Freedom! Roadshow.
A church with growing, fruitful disciples of Jesus is a growing, fruitful church transforming lives and its community. Understanding how to make "transforming" disciples, not just converts, is a critical issue for leaders.
It may just be that your approach to discipleship needs transforming. Historically discipleship has been seen as "teaching Christians to behave in the right way". But just "trying harder" generally leads us to promote a kind of "Christian behaviourism" which more often than not leads to joyless legalism.
In every one of his letters to the churches, the Apostle Paul does not tell us a single thing about how to behave or what to do until the second half of the letter. Why? In the first half, he helps us understand who we now are and what we have in Christ. When we know that, the rest follows: we live for God not because we feel we have to but because we know Him and love Him.
Freedom In Christ Ministries has proven that this "identity-based discipleship" is highly effective. Over 300,000 UK Christians in around 6,000 churches have been through our core resource, The Freedom In Christ Discipleship Course, and we have trained thousands of church leaders in Biblical discipleship principles.
You and other leaders in your church are warmly invited to this briefing event, A Strategy For Transforming Discipleship. In two hours, we'll outline three key concepts for developing a church-wide, inter-generational, discipleship strategy and share with you some exciting new developments to our core tools, including an introduction to the brand new and completely updated edition of the FIC course, launched in August 2017.
If you like what you hear, we'd be delighted to go on to work with you as you develop a whole-church discipleship strategy. We do not offer a "one size fits all" approach but love to help each church team identify the specific calling and gifting that God has given them and select the tools that are appropriate for their own situation.
Speakers: Alison Fleetwood and Richard Alty
Cost: Free of charge
To view or download our publicity leaflet click here - feel free to print it off and distribute it.
Wed 11 July 2018 11:00 to 13:00
York City Church




The Citadel


Gillygate


York

,

YO31 7EA




United Kingdom
Refreshments will be available on arrival before the event starts.
For a printer-friendly version of this page click here.