Free Introduction and Sampler DVD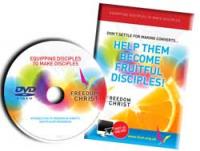 If you like the look of our material, go ahead and place an order in the knowledge that, if you decide that it's not for you, we will offer you a full refund as long as you return it to us in good condition within 28 days of receipt.
On the other hand, if you want more information before you buy, or want a resource to help you present the material to your church, add this free introductory DVD to your shopping cart.
It contains around 4 hours of material from across the whole FIC range including:
A sample session from the Freedom In Christ Discipleship Course
A sample session from Freedom In Christ For Young People
A clip from the Making Fruitful Disciples training DVD
A clip from the Helping Others Find Freedom In Christ training DVD
Interviews with leaders who have used the material
Information on our "setting your church free" process
A host of other information on Freedom In Christ's approach.
If you have other items in your basket, there will be no additional charge for this DVD. If this is the only thing you order, you will be charged our minimum postage rate (£1 in the UK and £5 elsewhere in the world).
(IntroDVD)
---
Every order you place helps us equip the Church to make fruitful disciples. Thank you!
Bulk discounts start on orders over £275
Delivery anywhere in the world
Countries outside the European Union will not be charged Value Added Tax which reduces the price of some items by around 20%. If you are from outside the EU and are logged in to the site, the prices you see have been reduced to reflect this. If you are not logged in you will see the higher prices.
See our Shop help page
Search the Shop
Can't find what you're looking for? Try entering part of a product name or a product code if you have one into the box below.