FIC Discipleship Course Starter Pack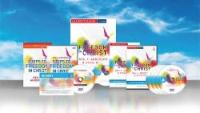 Save over £60! Pack for 20 people with: Course Leader's Guide & CD; 20 Participant's Guides; Discipleship Course DVD Set; 20 Steps booklets; Steps DVD; 60 Postcards (20 of each); 50 invitations; 3 Posters (A3); PLUS: 1 set of 4 Discipleship Series books.
Note: purchasing this item will immediately register you as a user of our Discipleship Course and give you access to a special section of our site which contains a host of useful information and downloads for running your course. Look for it in the "Your Access Privileges" menu in the right hand column after you have completed your purchase. We'll also give you automatic access to the section of the site for course participants.

Price:

£259.00
(FC205 / FC240 / FC237 / FC238 / FC203 / FC53 / FC127 / FC242 / FC243 / FC245 / FC246 / FC206 / FC129 / FC204)
---
Every order you place helps us equip the Church to make fruitful disciples. Thank you!
Bulk discounts start on orders over £275
Delivery anywhere in the world
Countries outside the European Union will not be charged Value Added Tax which reduces the price of some items by around 20%. If you are from outside the EU and are logged in to the site, the prices you see have been reduced to reflect this. If you are not logged in you will see the higher prices.
See our Shop help page
Search the Shop
Can't find what you're looking for? Try entering part of a product name or a product code if you have one into the box below.